The leader of the Liberal Democrats, Tim Farron is the subject of another eruption on Twitter surrounding what may or not be his views on homosexuality. It came after giving an awkward and unclear response to a question from Cathy Newman of Channel 4 News who asked him whether being gay was a sin. Mr Farron's response to that question resulted in minor 'celebrities' dashing to their phones to record their disgust at his 'bigoted' views, newspaper columns filled with articles on his supposed views (many of which have been assumed rather than reporting what he actually said) and the all-so-tolerant liberal masses lined up to deride his comments as outdated and unfit for modern British society. The only problem is what he actually said was pretty much in keeping with liberal progressive ideals and was a very minor part of the interview. The views that were actually expressed should be more of a concern to Christians than to God-rejecting 'celebrities'.
Tim Farron on C4 news failing to clarify his views on the gay community. 'We're all sinners'.

It's 2017.

— Sue Perkins (@sueperkins) April 18, 2017
Problem with people saying it's Tim Farron who's talking the most sense is: he's a fundamentalist Christian homophobe. #notsurehowwegothere

— David Baddiel (@Baddiel) April 18, 2017
Mr Farron has never hidden his faith which is a good thing and he has never denied being a Christian when asked, again a good thing. However, there are substantial problems with his views, many of which appear to be at odds with Biblical teaching. So given that many of his views (particularly on the issue of sexuality) appear to agree with those of atheistic liberals, why has the reaction to what he said been so vitriolic and abusive and what can Christians learn from this situation?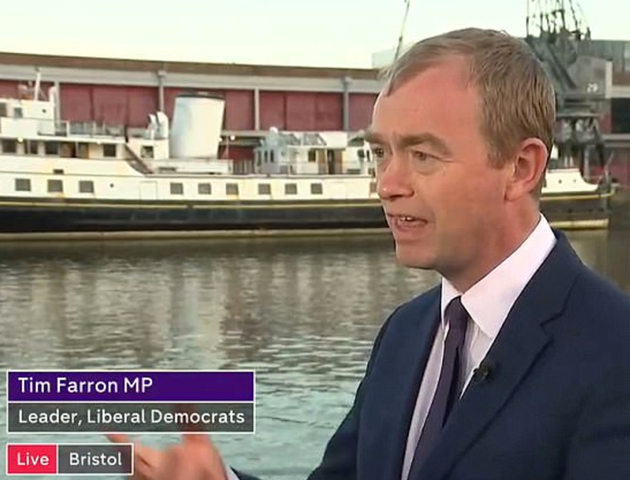 Why was a liberal Politician Attacked by Liberals?
There are two possible reasons for why Farron has received the critical response to his comments that he has: Either he is being targeted because he is a Christian, or he is being exposed for the apparent contradictions between his faith and political views.
The interview itself only mentioned the issue of homosexuality at the end and the rest of it had been about the wider (and frankly more important) issues of the election. If those attacking him bothered to take note of what he said in the rest of the interview, they would have discovered, for example that Mr Farron doesn't think Jeremy Corbyn is Prime Ministerial material which potentially rules out a Lib-Lab coalition. It is quite probable that if the interviewer had been anyone else the subject of Mr Farron's views on homosexuality would not have been asked. It was only because he caused a stir back in 2015 when asked a similar question by the same interviewer that it was repeated now. Yet, despite the controversial part being less than 30 seconds in a three minute interview, it is that final issue on homosexuality that everyone focuses on. If Tim was not targeted because of his faith, then why is the rest of the interview forgotten? It has been open season for attacks on Christians in recent years and the intolerant tolerant left clearly relished an opportunity to smear another man of faith. You only have to review the sense of glee with which they attacked the views that Mr Farron did not express or even appears to hold to see that.
If the issue is Farron's apparent contradiction between faith and politics then why do his detractors seem to forget or ignore his track record of support for extended gay rights and his vocal support for the equality agenda? He and nine other Lib Dems did abstain on the 3rd reading of the gay 'marriage' bill (having enthusiastically supported it through all the the previous stages) which was an odd move at the time and is now a stick the progressives use to beat him with. Despite that, everything else he has done, voted on and said before and since has been very much agreeable to those same people now attacking him for his views which he does not appear to hold. Everyone in the secular world knows deep down that homosexuality is wrong (denying it is a different issue). Moreover they all know that Christians consider it a sin and that the Bible calls it an abomination. They cannot understand why someone like Tim Farron who has such liberal credentials would be a Christian and still be able to hold such views, so perhaps they are attacking him to expose the contradictions in his views. However, it appears that there is no contradiction in his views in that way, more that his views do not appear to match those of the Bible. It is therefore less likely that their attack is an elaborate exposé of contradiction because that would require reasoned thinking which the shouting tweets of the liberal celebrities do not contain.
Whichever it is, it is clear that the progressives are happy to sacrifice a soldier for the greater cause of attempting to squash Christianity and stamp it out from society. If they bothered to look they would know that Farron has some very questionable social views that do not sit comfortably with his faith, but which should be welcomed by progressives. Yet it is the fact that he dares to be and even worse announce he is a Christian that they cannot contend with because attacking Christianity and seeking to erode the Judaeo-Christian values that form the bedrock of our society are their priorities. It is sad and somewhat concerning that they would attack someone who actually agrees with them on social issues just because of a difference of faith.
This episode displays a worrying theme in British discourse. It is the idea that you cannot have any views contrary to the liberal, progressive mind-set and anyone who dares to do so will be vilified, especially if those views are the result of a Christian faith. Their agenda goes further to say that Christian views are actually dangerous to society, so they must be stamped out. For every time a Christian's views on sexuality are attacked, the same people attend marches in 'solidarity' with Muslims whose views on the same issues should be far more uncomfortable for progressives than what the Bible says. Yet it is the Christians who are attacked. Perhaps they feel 'threatened' by Christianity in a way they do not with Islam as it gradually colonises swathes of western civilisation?
A Missed Opportunity
Tim Farron would not be in this mess if he had not compromised in the first place. Presuming (as seems to be the case), the attacks are because of his faith, he would still be attacked for being a Christian and he will still be criticised for holding liberal views whilst being a Christian. If being a Liberal Democrat is about supporting the equality and sexual agenda, then perhaps Christian views are incompatible with that party. Perhaps it is this incompatibility that Mr Farron struggles with most that leads him to squirm and give unclear and non-committal answers to questions on issues such as sexuality where his faith and politics do not align. The mess that Farron has got himself into over this issue (which started back in 2015 when he became Lib Dem leader) when he gave another very uneasy answer to a similar question is what happens when political persuasions are at odds with faith convictions. It is the result of what happens when you try to be all things to all people.
Perhaps it is because Mr Farron was not expecting the question. Perhaps it is because of the issue of faith and politics clashing. Whichever it is, this was a prime opportunity to speak God's truth on a nationally broadcast live interview. Instead, Farron tried to wriggle out of the question and announced it was not his place to make "theological statements". He was right that the election is about more than party leaders making theological arguments, but in refusing to talk about his faith, he missed an opportunity, an opportunity that all believers should relish.
Celebrities and liberal elites will always chant about the 'bigotry' of Christianity. They will always attack those who choose to hold such views and they will always try to delegitimise the role of Christianity in our society, so their faux outrage should not be particularly listened to and it must not stop us from sharing the gospel with those who need to hear it. Ultimately, their shouting on Twitter and vitriolic denouncements of anything a Christian says is cover for their own rejection of God and so we should be praying for their salvation. We should be praying that they come to the point of accepting Jesus Christ as Lord and saviour.
This is an absolute disgrace. But hey, I'm just some sinning gay, what would I know. https://t.co/nzu1PU7YLB

— Owen Jones? (@OwenJones84) April 18, 2017
If people such as Tim Farron are called into public life, then they should be doing the work of God there rather than seeking to advance the cause of liberal agenda politics and jumping on the secular sexual revolution bandwagon. After all, what is the point of having a faith if it has absolutely no impact on how you act, talk and conduct your life? What is the point of faith if, when presented an opportunity to make a stand for that faith, you capitulate to the spirit of the age or have no intention of recognising the authority of the Bible?
What is clear is Tim Farron is under attack for his faith. Whilst some of his views, particularly on the issue of homosexuality do not appear to be compatible with the Bible, it is clear he has had to wrestle with his faith and politics clashing. We need to pray for him. We need to pray that he will not be afraid to speak out truth despite the attacks he will face. We need to pray that he will stand up for Biblical principles and we need to encourage other politicians who have a faith to also be unafraid to speak out the truth.
Don't Give Secularists an Easy Victory by Compromising on Faith
The attacks on Farron for expressing 'hateful' and 'bigoted' views in defending the Biblical view of sexuality (which he didn't) just goes to show why for Christians, compromising on truth or watering down the gospel to the standards of the world is just not worth it. Doing so will always end in failure. Mr Farron has somehow managed to get himself into a situation where he is criticised by liberals for having a faith and by conservatives for not adhering to his faith in the views he holds and expresses.
This episode should be a lesson to us all. It should tell us that we should not entertain compromise at all or wobble from absolute truth for it is a road laced with landmines, one of which will eventually get us. Sure, those of a militant secular mindset will hate us for being Christians, but that should come as no surprise given that Jesus said they will hate us because they hate God (Mark 13:13). Above all, as Christians our priority must be the transformation of the world through the power of God. How can we ever expect to see revival in this nation if the people who need to be calling for and seeking it are too busy lining up their views with the world's rather than 'not conforming to the pattern of the world' (Romans 12:2)? No one is suggesting that taking a stand for faith in public life today is easy, for it is not. However, if we are truly servants of God then what should and must matter more to us is not man's view of our beliefs, but God's judgement of us. This world and those who reject God are a temporary, passing thing, but God's kingdom and God's judgement is eternal.
It is great there are so many Christians who get involved in politics, but so few seem to allow their faith to be on display once elected. So many seem to hide their light under a bushel, desperate not to be noticed for their faith. Let us pray that this General Election results in fearless solid Bible believing (and following) Christians being elected to Parliament. Let us recommit to standing firm for our faith, regardless of the cost to us. Let us devote our lives to the service of God and seeking of his kingdom to come here in the United Kingdom.
---
---